UX: More than just "UI design"
June 20, 2019 - 5 min read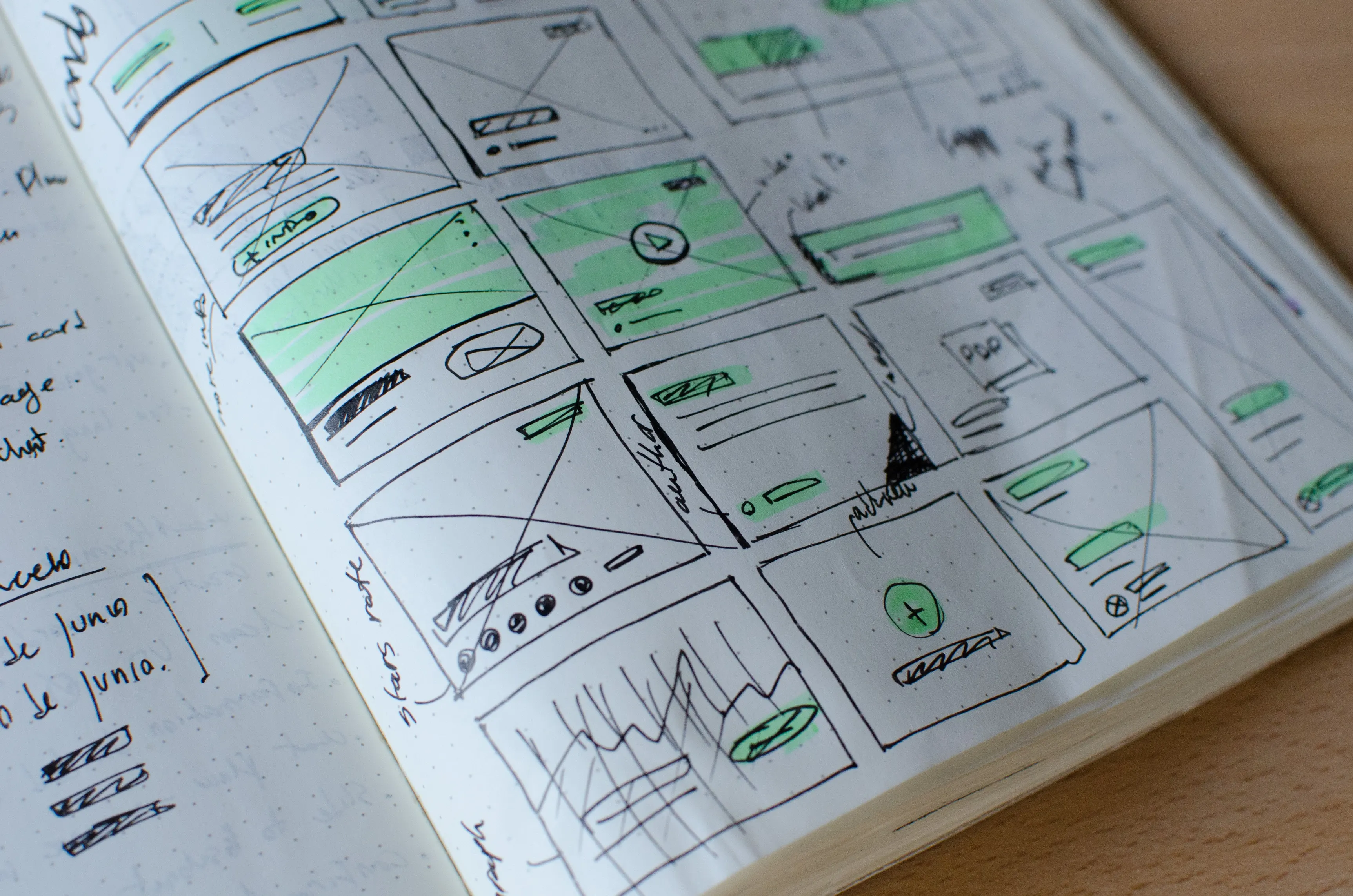 The Difference Between User Experience and User Interface Design
Digital design professionals are no different than our counterparts in other industries – we love our acronyms and coded terms. The list is long: " "journeys," "IA," "wireframes," "HCI," "UX," "usability," "UX design," "UI design," etc. – it can very quickly seem like a secret language.
The last two terms – UX design (user experience design) and UI design (user interface design) – are by far the most important to understand. Together, they represent concepts that form the foundation for all great digital experiences. While often used interchangeably, it's important to realize that UX and UI design aren't the same things. Let's unpack the confusion and zero in on why it's more important than ever for your business to know the difference between the two.
User experience (UX) and user experience design (UXD) defined
When a digital designer talks about "good UX" they are talking about an experience that flawlessly meets (or exceeds) the needs of the user. They are talking about all the encounters users have with a company and its products and the way it makes the user feel. Good UX makes users feel joyful and satisfied. Bad UX can leave users confused and frustrated and looking elsewhere for joy.
Here is an often-cited example. Apple designs and builds excellent, easy to use computers. It sells them by an equally clear and easy to use Website. Apple puts an enormous amount of effort into the design of every interaction users have with their brand and products. By design, they are deeply concerned that the total "user experience" with Apple be positive and fulfilling. To that end, Apple can be said to consistently deliver a great user experience (UX).
The notion of "user experience" was popularized in 1993 by human-computer interaction thinker, cognitive scientist and Apple Computer employee Don Norman. He was the first to broadly define user experience as "encompassing all aspects of an end user's interaction with a company, its services, and its products." This idea quickly gained steam as technology companies realized that a commitment to making their websites and products intuitive and easy to use, was good for business. This concept seems obvious today, but back in the good old "dot.com" days, a Website that took a considered approach to how humans could successfully interact with it ¬– really set themselves apart from the competition. Delivering a good (or better, great) user experience became table stakes for any company hoping to succeed in the digital space.
Today, the term "user experience" has been rarified into the more commonly used "UX," but it's meaning is the same as originally intended. The goal of good user experience, to quote renown usability consultant Jakob Nielsen, is "to produce products that are a joy to own [and] a joy to use." In 2019, delivering digital products and experiences that are "a joy to use" is a business imperative. There are over 1.6 billion websites and nearly four million apps out there. That's some serious competition. But if you get UX "right" and deliver well-designed digital experiences, you will earn satisfied, loyal users and set yourself apart from the competition. Get the user experience "wrong" - by forcing users to struggle to find joy with your website or app – and they will happily go elsewhere.
User experience design: Delivering "good UX"
The job of UX designers is to create great user experiences. They are concerned day-in and day-out with designing products or services that meet the needs of users by simply letting them get done what they want to get done! Apple's website user experience is expertly designed to help customers learn about, choose, and buy a new computer. The entirety of their UX was designed to help customers seamlessly achieve their goals (in this example, buying a computer).
To deliver "good UX", user experience designers work alongside product designers, graphic designers, researchers, marketers and business teams. They do research and experiment with different wireframes and mock-ups. They do this to understand what users want and how they go about getting what they want. Most importantly, UX designers ask a lot of poignant questions. Questions like:
"What are users trying to achieve with this app or website?"
"How do users interact with it, and what order do their actions take?"
"Were users able to quickly and simply complete tasks?"
"How do users feel while they are using the app or website?"
UX designers use data from their research to build prototypes of products and services for further testing. They iterate, they tweak, and they improve their designs. Finally, they arrive at a model that is tested and proven easy to use and is ready to be put into production.
So, you can see, the user experience designer wears a lot of hats. They touch on strategy, customer analysis, testing, mock-ups, analysis, and give direction on executing designs. Usability design is the "glue" that connects business goals to user's needs through a process of testing and refinement. The next step in the process is bringing that great UX design to life.
UI design - A critical part of UX
Now we know all about the term "UX", what's meant by "UX design" and what a user experience designer does. So, what about user interface design? User interface design (AKA UI design) can be defined as the creation of simple and efficient user interfaces for digital experiences. Good UI design uses appropriate graphic design, typography and structure to let a user easily accomplish their goals without making itself known. For example, a great banking app UI is clean and clear. Its thoughtfully designed screens let you log-in, do your banking and leave – all without really "noticing" the app. A "bad UI" (or one that needs work) makes itself known by causing confusion, slowing users down or worse – forces them to ask for help. A bad UI is a serious business risk.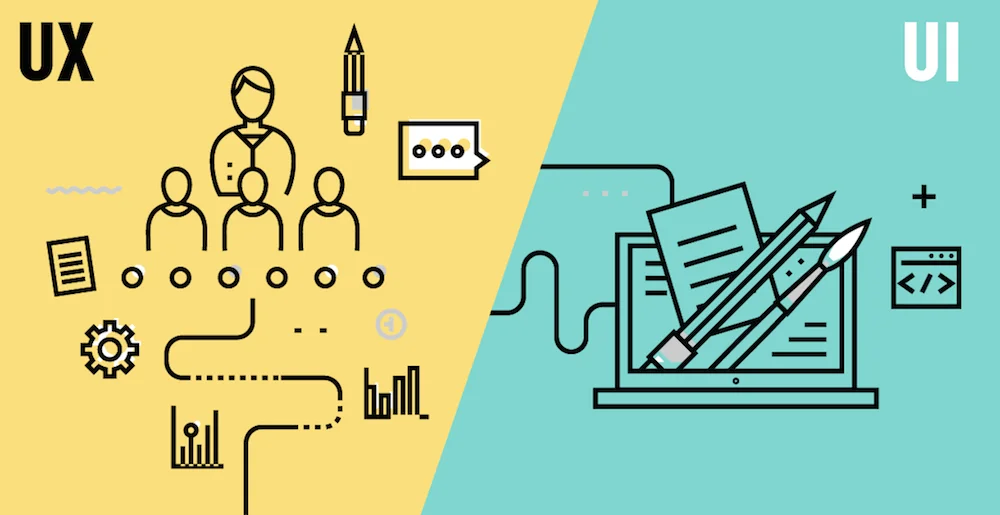 Image: Career Foundry, The Difference Between UX and UI
So, UX design is concerned with the total experience a user has with a product or service. UI design is focused on bringing the user experience to life in the form of screens and interfaces. User interface design is a critical part of delivering successful user experiences and often takes its lead from the plan set out by the UX designer. Great digital experiences begin with solid UX groundwork and ends with high-quality UI design. Together, UX and UI design are essential ingredients for the success of any digital product.
The case for investing in professional UX and UI design
Billions of websites, millions of apps – the statistics speak for themselves; the modern digital landscape is more competitive than ever. The factors that need to come together for a company to "be the next Apple" are complex to say the least. But as the continued success of user-centric companies proves – focusing on great UX and UI design is essential. Usability and great user experiences were instrumental in Apple's successful growth, and it can be the same for your business.
Working with professional UX and UI designers is a high ROI investment. Apps and websites that deliver a great UX with quality UI design are shown to drive more conversions and sales. Happy, satisfied customers give positive reviews and recommend your product or service to friends. Getting your UX and UI design "right" the first time saves on costly redesigns and increases the efficiently of your advertising dollars. It also lowers your customer service expenses.
For over 20 years, Interpix Design has been helping some of Canada's leading companies build and improve the UX of their websites, apps and digital experiences. As user experience and user interface design experts, we create pixel perfect products from the ground up – or help you take your apps and websites to the next level. Get in touch, and we'll help you solve your digital problems.
Contact Us Today!
REFERENCES:
Career Foundry | Internet Live Stats | Apple Canada